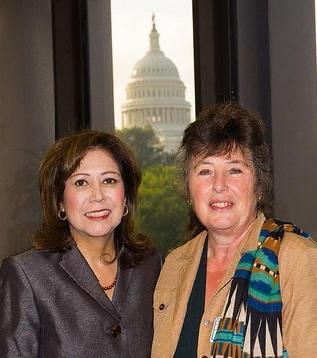 Theda McPheron-Keel (pictured right) with former U.S. Labor Secretary Hilda Solis, 2013
Wind Hollow Foundation's founder Theda J. McPheron Keel, RN, CRRN, MA, MS, MA, CHES (PhD) is a Registered Nurse (RN) with advanced specialization as a rehabilitation nurse (CRRN). She holds additional degrees in sociology, psychology, and biology. Ms McPheron Keel also has a Masters of Arts degree in American Indian Studies at University of Arizona and has also earned Masters degrees in Community Health Education and Applied Social Research, Sociology/Anthropology, both at West Virginia University. She is presently pursuing a Ph.D. degree in Public and Community Health at the University of Maryland, with emphasis on survey research methodology and statistical data base development. In addition, Ms. McPheron Keel has founded the nonprofit organization, Wind Hollow Foundation, which focuses on American Indian needs nationally. Ms. McPheron Keel teaches, lectures, and writes nationally on cultural awareness issues, health care policy, health education, traditional medicine and spiritual beliefs of American Indians, access issues for minority populations, and community consensus and coalition building. Ms. McPheron Keel is an enrolled member of a Southeastern Cherokee tribe and a hereditary member of the Lower/Poarch Creek Nation of Alabama.
Wind Hollow Foundation copyright 2014. All Rights Reserved.